Shopping Cart
Your Cart is Empty
There was an error with PayPal
Click here to try again
Thank you for your business!
You should be receiving an order confirmation from Paypal shortly.
Exit Shopping Cart
| | |
| --- | --- |
| Posted on December 18, 2021 at 5:55 AM | |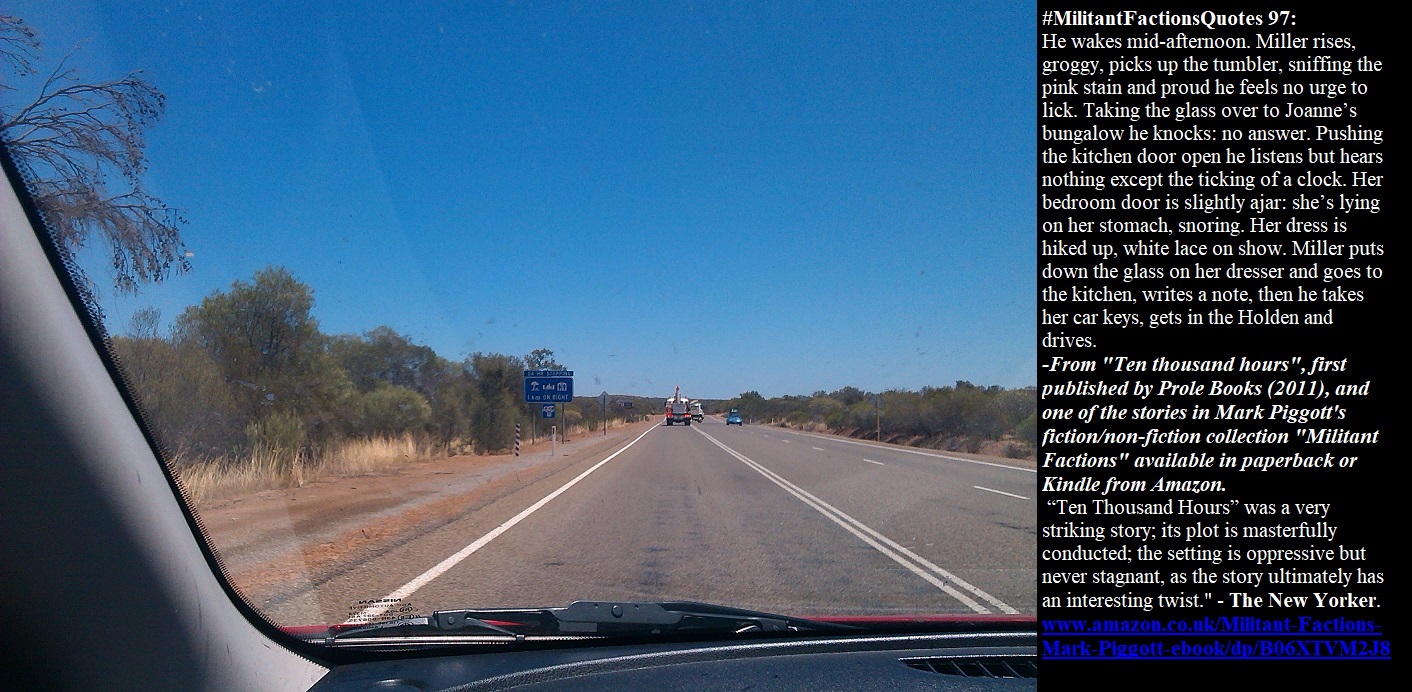 #MilitantFactionsQuotes 97:
He wakes mid-afternoon. Miller rises, groggy, picks up the tumbler, sniffing the pink stain and proud he feels no urge to lick. Taking the glass over to Joanne's bungalow he knocks: no answer. Pushing the kitchen door open he listens but hears nothing except the ticking of a clock. Her bedroom door is slightly ajar: she's lying on her stomach, snoring. Her dress is hiked up, white lace on show. Miller puts down the glass on her dresser and goes to the kitchen, writes a note, then he takes her car keys, gets in the Holden and drives.
-From "Ten thousand hours", first published by Prole Books (2011), and one of the stories in Mark Piggott's fiction/non-fiction collection "Militant Factions" available in paperback or Kindle from Amazon.
"Ten Thousand Hours" was a very striking story; its plot is masterfully conducted; the setting is oppressive but never stagnant, as the story ultimately has an interesting twist." - The New Yorker.
*From 20-24 December 2021, all four of my published books will be available FREE on Amazon Kindle.
Categories: None
/